Data for L&D professionals, Part I

20 April 2020
In the L&D Global Sentiment Survey 2020, four of the top five options chosen internationally as 'hot'  for Learning and Development in 2020 relied on data. As a result, I've had a lot of L&D professionals ask me where they could start with understanding data. On 15 April, I put out a request on Twitter for resources to help:
L&D folk – your help, please!

A lot of people are asking me for help in developing their understanding and use of data for business and learning.

What resources can you suggest I point them to?

Could be a blog, a book, a video, a course…. you get the idea.

— Donald H Taylor (@DonaldHTaylor) April 15, 2020
Plenty of people responded (see credits at the bottom of this post).
This post curates the responses to my tweet. Over time, if people add ideas in comments on this post, I may add those to this list, too.
Please bear in mind the following: I have not edited or quality checked the suggestions; the response was wide ranging and there may be things on this list only tangentially associated with data. Also, while this list includes information from vendors, its inclusion here should not be taken as an endorsement of the vendor. If you find anything here outrageously self-promotional, please let me know in the comments.
I have called this Part I in a series, because I know there will be at least one more post in which I'll look in more detail at data. It's too important a topic for L&D not to.
Blogs
Cole Knaflic's Story Telling with Data: https://community.storytellingwithdata.com/
Learningpool: https://learningpool.com/defining-problem-first-step-successful-learning-analytics/
CIMA: https://www.cimaglobal.com/Research–Insight/Valuing-your-talent/
Watershed: https://www.watershedlrs.com/blog/business-and-data-alignment/how-to-align-learning-with-business-goals
Degreed Does Data: https://blog.degreed.com/degreed-does-data-everything-about-apis/
Videos
LTUK20 videos: https://youtu.be/MFzvgTiQ8Xg, https://youtu.be/1bTB5PJOq8k
Courses
Udemy Business Intelligence: https://www.udemy.com/course/business-intelligence-strategies/
Open Course World: "Learn to Analyze Educational Data and Improve your Blended and Online Teaching" in January. https://www.opencourseworld.de/pages/programmes.jsf#!/2441772/1700
Books
Behind Every Good Decision, (Piyanka Jain & Puneet Sharma): https://www.amazon.co.uk/Behind-Every-Good-Decision-Profitable/dp/0814449212
Data-driven Organization Design: Sustaining the Competitive Edge Through Organizational, (Rupert Morrison): https://www.amazon.co.uk/Data-driven-Organization-Design-Competitive-Organizational/dp/0749474416
The Wisdom of Crowds, (James Surowiecki): https://www.amazon.co.uk/Wisdom-Crowds-Many-Smarter-Than/dp/0349116059/ref=sr_1_1?dchild=1&keywords=The+Wisdom+of+Crowds&qid=1587389550&s=books&sr=1-1
Data-Driven HR: How to Use Analytics and Metrics to Drive Performance, (Bernard Marr): https://www.amazon.com/Data-Driven-HR-Analytics-Metrics-Performance-ebook/dp/B07C987TWN
Everybody Lies: Big Data, New Data, and What the Internet Can Tell Us About Who We Really Are, (Seth Stephens-Davidowitz): https://www.amazon.co.uk/Everybody-Lies-Internet-about-Really/dp/0062390856 *recommended numerous times
Performance-Focused Smile Sheets: A Radical Rethinking of a Dangerous Art Form, (Will Thalheimer): https://www.amazon.co.uk/Performance-Focused-Smile-Sheets-Rethinking-Dangerous/dp/1941577008
The Trainer's Balanced Scorecard, (Ajay Pangarkar, Teresa Kirkwood): https://www.amazon.com/Trainers-Balanced-Scorecard-Complete-Organizational/dp/0787996580
Research Methods for Business Students, (Adrian Thornhill, Philip E. T. Lewis): https://www.amazon.co.uk/Research-Methods-Business-Students-Saunders/dp/0273716867
Statistics Without Tears, (Derek Rowntree): https://www.amazon.co.uk/Statistics-without-Tears-Introduction-Non-Mathematicians/dp/0141987499
Bad Science, (Ben Goldacre): https://www.amazon.co.uk/Bad-Science-Ben-Goldacre/dp/000728487X
Invisible Women: Exposing Data Bias in a World Designed for Men, (Caroline Criado-Perez): https://www.amazon.co.uk/Invisible-Women-Exposing-World-Designed/dp/1784741728
What the CEO Wants You to Know, (Ram Charan): https://www.amazon.co.uk/What-CEO-Wants-You-Know/dp/0609608398
Map It, (Cathy Moore): https://www.amazon.co.uk/Map-hands-strategic-training-design-ebook/dp/B075RDL1SJ
Big Learning Data, (Elliot Maisie): https://www.amazon.com/Big-Learning-Data-ASTD-Editors/dp/1562869094
A Field Guide to Lies and Statistics, (Daniel Levitin): https://www.amazon.co.uk/Field-Guide-Lies-Statistics-Neuroscientist-ebook/dp/B01DOSVSO6
The Tiger That Isn't, (Andrew Dilnot, Michael Blastland): https://www.amazon.co.uk/Tiger-That-Isnt-Through-Numbers/dp/1861978391
Data Story, (Nancy Duarte): https://www.amazon.co.uk/DataStory-Explain-Inspire-Action-Through/dp/1940858984
How not to Waste Your Money on Training, (Krystyna Gadd): https://www.howtoacceleratelearning.co.uk/bundles/
How to Lie with Statistics, (Darrell Huff): https://www.amazon.co.uk/How-Lie-Statistics-Penguin-Business/dp/0140136290
Data-Driven Learning Design, (Lori Niles): http://www.loriniles.com/ebook
Resource Collection
https://www.linkedin.com/pulse/learning-analytics-useful-resources-susie-finch/
Thank you!
Thanks are due to the following for contributing:
Ajay Pangarkar / @bizlearningdude
Andy Wooler / @awooler
Bartek Polakowski  / @b_polakowski
Becky Willis / @2beckywillis
Chris Bowie / @bigke
Cole Knaflic  / @storywithdata
David D'Souza  / @dds180
David Glow  / @criticallearner
Doug Clow /  / @dougclow
Hasti Mehta / @thehastimehta
Helena Nancinovic  / @helenan
Imogen Casebourne / @icasebourne
Krystyna Gadd / @KrystynaGadd
Mark Gilroy / @thatmarkgilroy
Meg Peppin  / @OD_optimist
Melanie Ross  / @melrossdigital
Phillip Green / @philipgreen
Richard Heaton  / @rwh1
Stella Collins  / @stellacollins
Steve Hearsum  / @stevehearsum
Teresa Rose /  / @teresarose01
Todd Tauber  / @toddtauber
Tony White / @white459
Watershed / @WatershedLRS
My apologies if I've missed anyone from this list.
The Research Base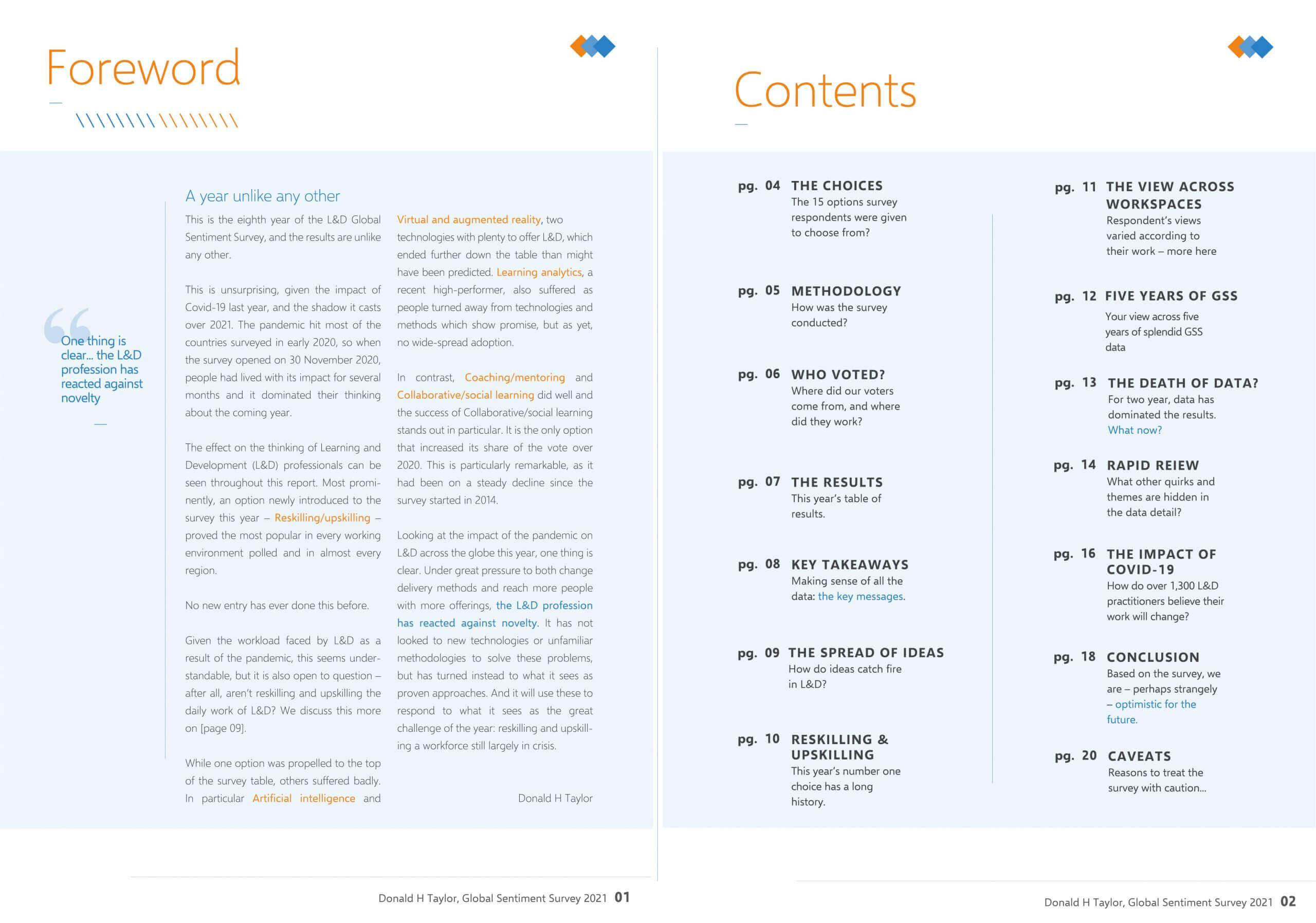 THE GLOBAL SENTIMENT SURVEY 2021
CONTACT

Newsletter

Get the latest from Don in your inbox