The L&D Global Sentiment Survey 2021 - the impact of Covid

01 February 2021
This year's L&D Global Sentiment Survey is unlike any other. The survey ran through December 2020 and January 2021 and the final results (see table) show the impact of Covid-19 on sentiment in Learning and Development (L&D).
Now in its 8th year, the survey had one obligatory question: "What will be hot in L&D in 2021?" Respondents choose from the 16 options listed. The poll is designed to be done quickly, to test how we feel about L&D.
Here's my initial take on what stands out in the results:
Reskilling/upskilling is top of everyone's agenda
Collaboration rebounds
People rallied to the familiar
The aspirational is ignored
1. Reskilling/upskilling is top of everyone's agenda.
For the first time, an option newly introduced to the survey went straight to #1. Not only that, Reskilling/upskilling was #1 for each of 5 areas of employment: Workplace L&D, Self-employed, Education, Vendor and Other. (89% of respondents answered this voluntary question.)
This was a historically popular choice. As the size of population surveyed each year has increased, so the share of vote going to the #1 option has decreased. The #1 spot hasn't taken 13% of the vote or more since 2016 and last year it took just 10.4%.
And Reskilling/upskilling was uniformly popular across the world, making the #1 spot in all but two of the survey's 'major' countries (the 10 which polled at least 100 votes). The exceptions: it ranked #2 in Australia and #3 in Brazil.
Not much detailed interpretation is needed here. Covid-19 has massively impacted employment world-wide, and this vote reflects that.
2. Collaboration rebounds
The impact of a single option at the top of the table taking up 13% of the vote was inevitable – every other option bar one was pushed down the table. The only option to increase its share of the vote was Collaboration/social learning. Since topping the table in 2015 and 2016, this option had been on its way down, garnering 8.3% of the vote last year.
Why did this rebound and nothing else?
Consider the question: "What will be hot in L&D in 2021?" Until recently, collaboration and social learning had seemed ideals, things we probably should be doing, but only fully embraced by few organisations.
2020 and Covid-19 changed all that.
When the workforce has to shift online, suddenly there are new ways of working. The explosion in use of collaboration tools such as Slack and Microsoft Teams and of online conference tools including Zoom showed that people could work remotely, and already were learning from each other.
Last year, collaboration and social learning moved from theoretical to practical, and became super hot.
3. People rallied to the familiar
Looking at the table, three options stand out for having the same share of the vote as last year: Coaching/mentoring, Performance support and Mobile delivery. These have been familiar parts of the L&D landscape for years. My interpretation of their relatively strong showing this year is that in times of crisis people move to the familiar. The contrast with the newer options, is stark….
4. The aspirational is ignored
Some of the brightest stars of the survey's recent years did very badly this year. Learning analytics topped the table last year. This year its vote was down 1.6%. Learning experience platforms, on the rise last year, fell 0.5%. Virtual and augmented reality fell 1.4% and Artificial intelligence plummeted a whopping 3.3% from last year, a meteoric fall from 2019, when 9.7% of the vote secured it the #2 spot overall.
It is fair to say that these options, while they may be well deployed in a few, advanced organisations, are aspirational for the vast majority of survey respondents. Anecdotal evidence from organisations selling solutions in these fields suggest that new sales in 2020 were not easy. Both these point to the same basic human reaction – to avoid perceived risk taking when things are tough.
Not all of these shifts were uniform across all countries, or across all areas of work. That's something I will explore in future blogs, but my initial view of the results is clear – these results show the reaction of the L&D community globally to the pandemic: to retrench, embrace the familiar, and back the one thing that has shown its value widely in 2020 – collaboration.
How the survey was run
Polling ran from 30 November 2020 to 31 January 2021. Respondents were contacted by social media and email and voted for three of 15 suggested options, plus a free text 'Other' option. 3,114 voters participated from 95 countries. This is the eighth year of the survey.
Caveats
Respondents to this report are self-selecting and unscreened. We cannot guaranteed they are involved in L&D, although the targeted nature of promotion and the question itself makes this very likely. Those that do choose to respond are likely to be Innovators and Early adopters and users of technology.
The full report on the survey results will be published later in February. Other report based on the data will follow. To claim your free copy of all these report, please register here:
With thanks to the sponsors and media partners of the 2021 L&D Global Sentiment Survey: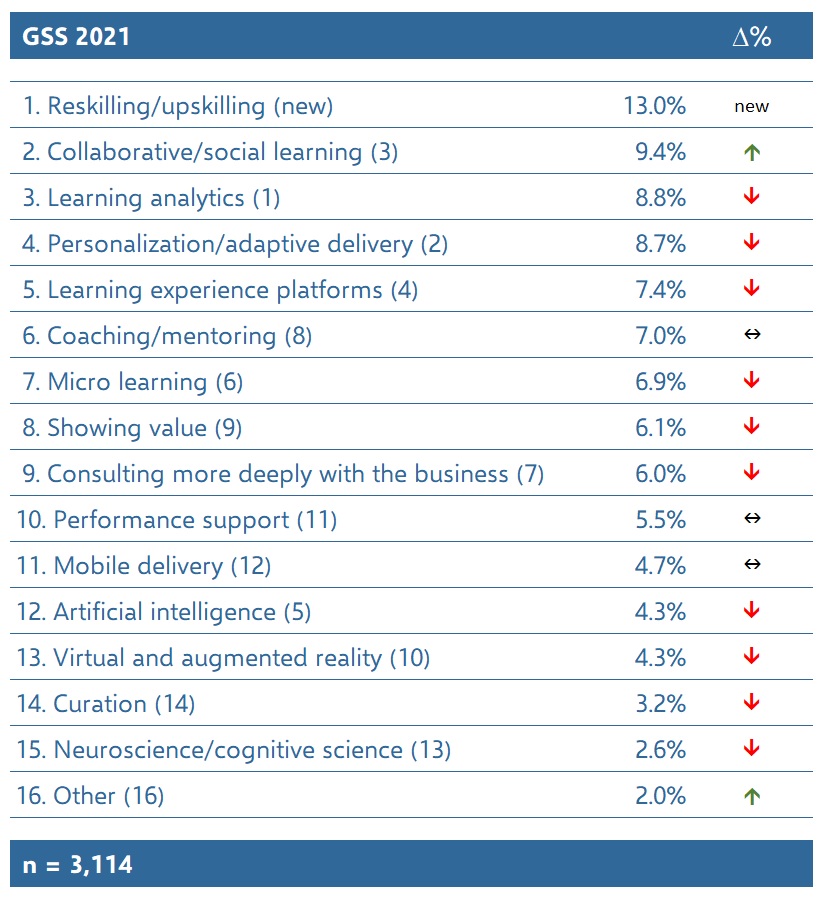 The Research Base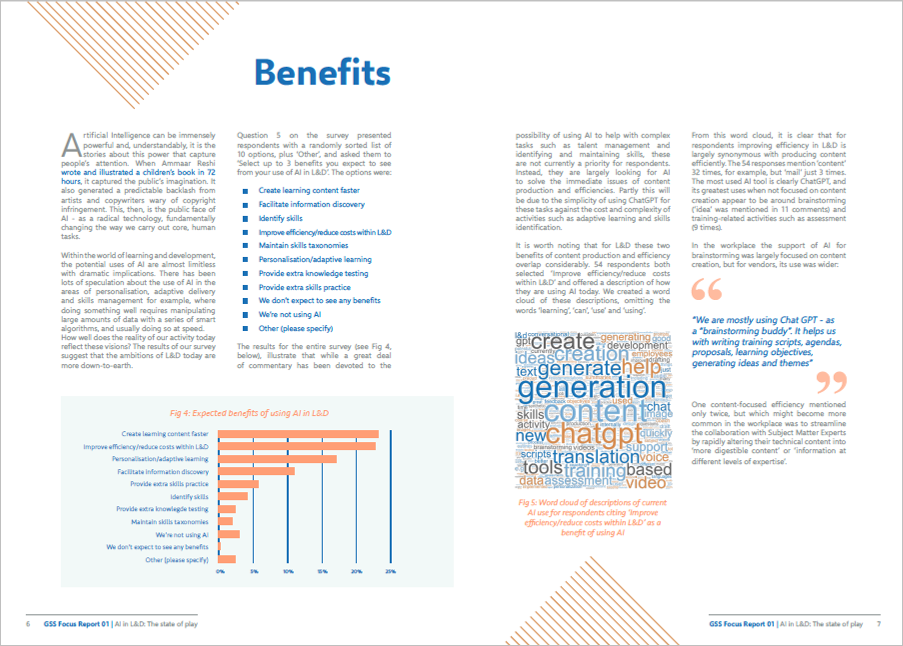 Focus on AI in L&D
CONTACT

Newsletter

Get the latest from Don in your inbox