Micro learning: advance or fantasy?

03 September 2017
2016 saw plenty of talk about micro learning. Was it just another fad or a step forward in learning and development (L&D)? The answer: both or either, depending on exactly what you mean.
Regular readers will know I'm currently running the 2017 L&D Global Sentiment Survey, where I ask L&D professionals a single question: what will be hot in L&D in the coming year? (Click to participate in the 2017 survey and to download the last report.)
Born in the USA (and Canada)
In the 2016 report, micro learning featured very strongly, despite this being its first appearance. It won 7.7% of the vote and ranked fifth overall. Looking at the results in more detail, the driver for this success was clear – most of the enthusiasm came from the US and Canada.
Participants in North America were about twice as likely to choose micro learning as voters in Europe, India or Australia. On the basis that what America does today, the world does tomorrow, I predictedmicro learning would be the most popular buzzword in L&D in 2016, internationally, and indeed interest surged (see the Google Trends graph above).
So micro learning is popular. But is it any good?
A definition of micro learning
In the Global Sentiment Survey I don't define micro learning, but I will here. 'Micro learning' is learning from content accessed in short bursts, content which is relevant to the individual, and repeated over time to ensure retention and build conceptual understanding.
Here's some micro learning content:
This is my Turkish language notebook from Istanbul in the late '80s. About three times a week, I would write out groups of 15 words and phrases, usually taken from newspapers. After learning these, I would revisit the phrases from the previous day, those from three days previously, 7 days previously and 28 days.
It's almost 30 years old and it involved no smart technology, but it worked. Within a couple of years, my Turkish was good enough to give me a neat side line in professional translating.
These sessions didn't take long, the content was highly relevant to me, and the process included a great deal of repetition. It was micro learning.
Of course the power of modern technology makes it far easier to do this today – as Clive Shepherd notes in Why micro-learning works for me, reflecting on using Duolingo for learning French. (Clive's streak of continuous activity now exceeds one year.)
Nothing new under the learning sun
Despite its popularity, however, not everyone is entirely positive about micro learning. In February 2016, Donald Clark took a characteristically uncompromising view. His conclusion: there isn't much new here. He is positive about it at the beginning of his conclusions but unforgiving at the end:
within the context of adaptive systems, defined by networks of learning objects, there are real attempts to use the idea, as there are in spaced-practice tools. But … we need some real analysis on what it actually means…. if this is the great trend for 2016 in learning, we've branded ourselves as a profession that simply forgets its past and is too lazy to define its future.
There is a lot in this. Mindless parroting of the phrase 'micro learning' risks undermining its value. The result is that for too many in our field – vendors and practitioners alike – it has become just a synonym for chopping content into ever smaller chunks, often compounded with some myth about millennial attention spans.
Without structured repetition and personal relevance, this is simply another way of putting lipstick on the pig of unwieldy corporate content, the sort of thing rightly decried by Nick Shackleton-Jones.
This is a pity, because there are good case studies out there of real micro learning producing measurable business results. Sadly, it is far easier to slap a label on something than it is to conduct a rigorous benefits analysis. The risk – as as we've seen in 2016 – is that the noisy multitude drowns out everything else.
What of 2017?
Will micro learning continue to be a hot topic in 2017? My prediction is that it will, with interest spreading from North America to the rest of the world. Whether it is used consistently or sensibly is another matter. We can only hope that the 'real analysis' that Donald Clark calls for will be allowed to surface.
There are, though, other hot topics also vying for our attention in 2017, including AI and Virtual Reality. To say what you think will be hot in 2017, click to participate in the 2017 L&D Global Sentiment Survey. If you provide your email address, you'll also receive a copy of the report when it's published at the end of the January.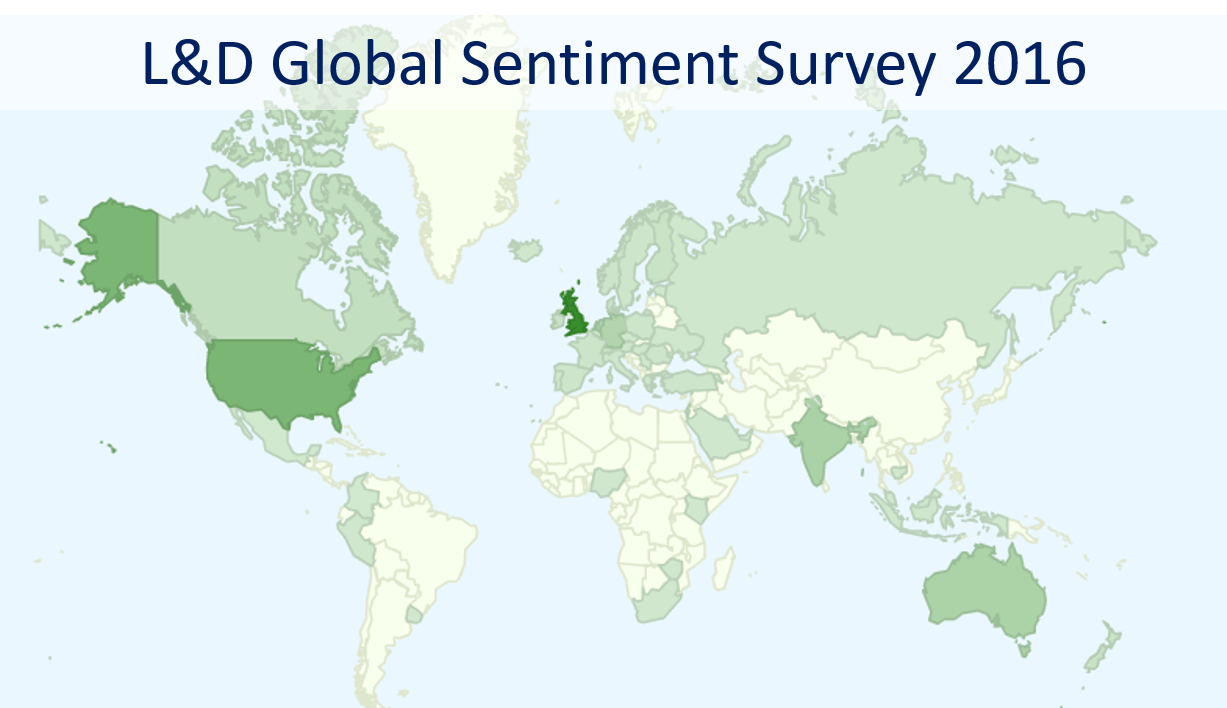 The Research Base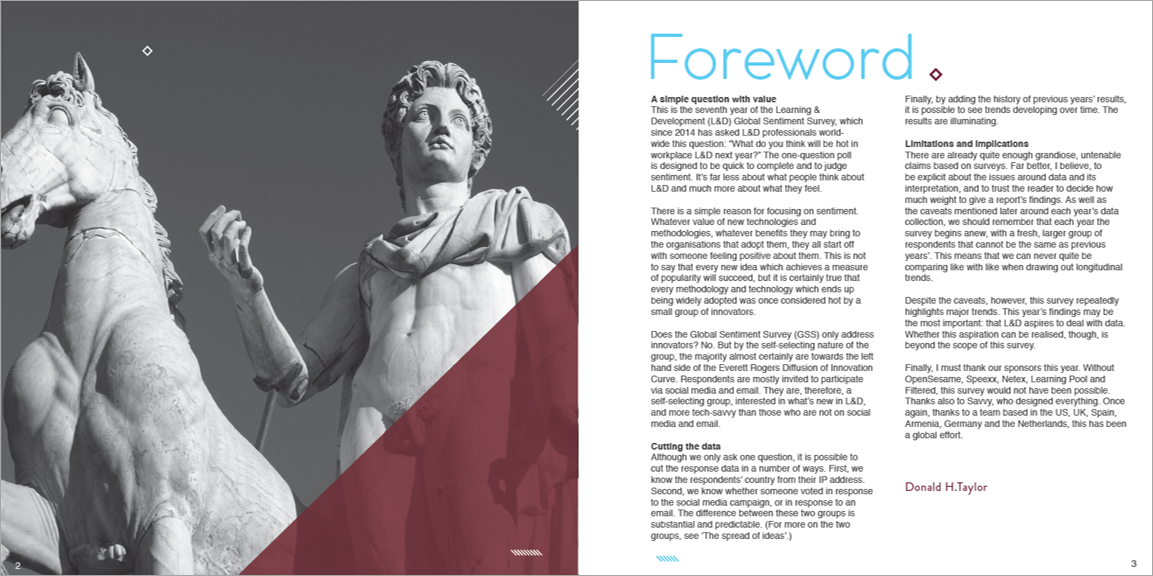 THE GLOBAL SENTIMENT SURVEY 2020
CONTACT

Newsletter

Get the latest from Don in your inbox