Eight tasks for your first 100 days leading an L&D department

05 October 2022
Image credits:Start by Harry Pammer (https://www.flickr.com/photos/harrypammer/51783482088)
At the start of the summer, I asked my LinkedIn L&D network what advice they would give someone new to managing an L&D department – what should they do in their first 100 days? More than 150 comments later, it was clear the question had touched a nerve and sparked some great advice. Here's a summary of the eight key actions the L&D hivemind recommends for your first 100 days in role:
Listen and learn
This is, without a doubt, your starting point. Listen, learn and observe – and then do it all again.
Carl Akintola-Davies, head of learning and development (Europe) at Phaidon International, sums this stage up brilliantly: "Looking at the comments on taking the time to listen, understand and connect with people, I'm reminded of the reversal of Oliver Hardy's catchphrase: 'Don't just do something! Stand there!'"
Ultimately, you need to understand the business and culture of your organisation, its priorities and pain points, and the help it needs (remembering that what it wants is often different what it thinks it needs…) to perform better or differently. Understand how the business makes money and how its value chain works.
Review performance data, including current training plans, curricula, recruitment plans, onboarding plans and succession plans to see if there are any current or anticipated skill gaps. Look at the full talent management lifecycle. But remember – what're you looking for is not just what the organisation is reporting, but what it is experiencing. And usually that's the stuff excluded from strategy and planning documents – so keep asking and listening and then asking again. Make the most of this time when you've got a fresh eye and can provide outside-in thinking.
As Kevin Elliott, senior manager learning and development at FRP Advisory, says, "the most important aspect is spending time getting under the skin of the company to truly understand its people, processes and culture. It is very easy to try and grab the low hanging fruit but you very quickly become an order taker living hand to mouth putting out fires. Make yourself visible, open up lines of communication across all business units / locations but don't just focus on senior management, try to speak to as many people as possible. Get a flavour of the appetite for L&D across the business, don't be surprised if it is low in certain areas."
Start conversations
But how do you start those crucial conversations? What are the questions you need to ask? Some suggestions:
What one thing could I change that would make the biggest difference to you as an individual, your team and the organisation?
What are the capabilities you need in your team in the next three to five years' time and what is your current assessment of your team?
What should the role of L&D be in this organisation?
Marco Hönig, global capability development director at dss+, advocates a slide-based approach. He recommends gradually building and refining three slides, which are both informed by your conversations and used to facilitate them:
Slide 1: draw the company's L&D value chain together with your conversation partners. It will change a bit with every conversation, but it will give you a good understanding of what different people see as inside/outside of your scope.
Slide 2: draw a (mind) map of the biggest learning needs in the organisation. Again, this is a great conversation starter and allows you to understand the development needs. It might also be the foundation of a future competency/skill map.
Slide 3: ask every conversation partner what they could contribute to upskilling.
Build your stakeholder relationships
Management support is critical to success – what are their expectations and perceptions of L&D? How much involvement do managers have and want in their team's development? Your conversations in steps 1 and 2 are part of this vital stage: building a network. Remember, at some point in the future you may need these people's support –  and it will be far more easily won on the back of an existing relationship.
L&D professional Candice Mitchell, who was in the middle of her first 100 days, notes that, "the first bit of structure I'm adding is a performance consultative approach. Managing expectations from order taker to performance partner is critically important and we need to set ourselves up for success from the get go."
Rashmi Rajopadhye of Datametica Solutions set up an L&D function in a greenfield site a year ago and made a point of reaching out to managers and leaders, including project managers and business unit directors: "After meeting them, I understood their pain areas. I kept it a mix of formal meetings and casual coffee conversations. This helped me create a relationship with them. Going to these meetings prepared and offering quick solutions to them helped me gain their trust."
Dig into the data
Before creating any kind of plan, dig into all the data you can get your hands on –performance data, employee survey data, exit surveys and attrition data. Does the organisation have a data analytics team? If so, talk to them and understand how they set up their metrics structures and, as Clare Stewart Munn, co-founder BoxMedia.io, suggests, "understand if the organisation has a data analytics strategy that ties into assessment/metrics around growth. If not, I'd highly recommend getting training put in on understanding the fundamentals of data analytics for team leaders across the company."
But heed the warning of Mark DeBlock, training specialist at IAC Group, that "sometimes in data-rich businesses there is often a focus on inappropriate data. We have to remember that not everything that can be counted, counts and not everything that counts can be counted!"
Be realistic …
Be realistic about what you can put in place in 100 days – or even your first year. Be wary of over-promising and under-delivering. If you are new in post you are not only establishing the role of L&D, you are establishing how it – and you – are perceived by the organisation. Be prepared to turn down requests for training that will drain away your resources and time, and, where you do decide to engage, focus on over-delivering.
This is especially true if you are an L&D department of one person. Kevin Elliott wisely advises that, "If you are on your own, be realistic about what you are capable of. The balance between what you buy, what you build and what you borrow will initially be heavily weighted towards the last two."
… but grab some quick wins
While being realistic about how much you can achieve in a short timeframe, it's also pragmatic to aim for a few, actionable quick wins before you launch your overall plan. This helps people see that, although you're new, you're serious. Efthymis Papadopoulos, commercial director at Pricefox.gr, recommends "some quick and easy trainings to show stakeholders you have listened to their needs and taken actions. After the completion of the quick wins, ask for feedback and ideas from the stakeholders."
Consider your comms
It's important to spread the word of who you are and what you are doing. In your early conversations in the organisation, don't forget about your internal communications and intranet colleagues to ensure that your team's efforts are getting the profile they need and deserve.
According to web and comms professional Simon Thompson, "no decent intranet manager is going to turn down a ready supply of news stories, especially if they show growth and commitment to corporate values. There may be a lot more that can be done to support training and onboarding across your various platforms, so look for conversations that can do this."
With their help, identify specific opportunities to spread the word. As Chris Croshaw, L&D manager at Lucion Group, explains, "Learning at Work Week has come along just at the right time, so I'll be using this to effectively 'launch' the L&D function. This will include sending out links to free learning resources, encouraging feedback to our 'new' mailbox, and a survey, to everyone, about what things are like right now."
Look after yourself
Finally, never forget your own training and skilling. Your first 100 days will be busy, exciting, sometimes stressful Find a good mentor within your professional network to bounce ideas off, have the occasional vent to and reflect on progress with. Keep up with your professional networks and carry on learning.
Finally, some important notes:
This was written with the invaluable help of Michelle Pauli.
For length reasons, I've drawn on only a handful of great examples from the 150+ on the original post. Thank you to everyone who commented, all your contributions were useful whether explicitly acknowledged here or not. Please do check out the original post to see all the discussion.
Other people who have talked about explicitly the first 100 days in L&D include Helen Bailey – read her blog post
This topic isn't going away – we'll be running a session on it at the Learning Technologies Conference in London, in May 2023.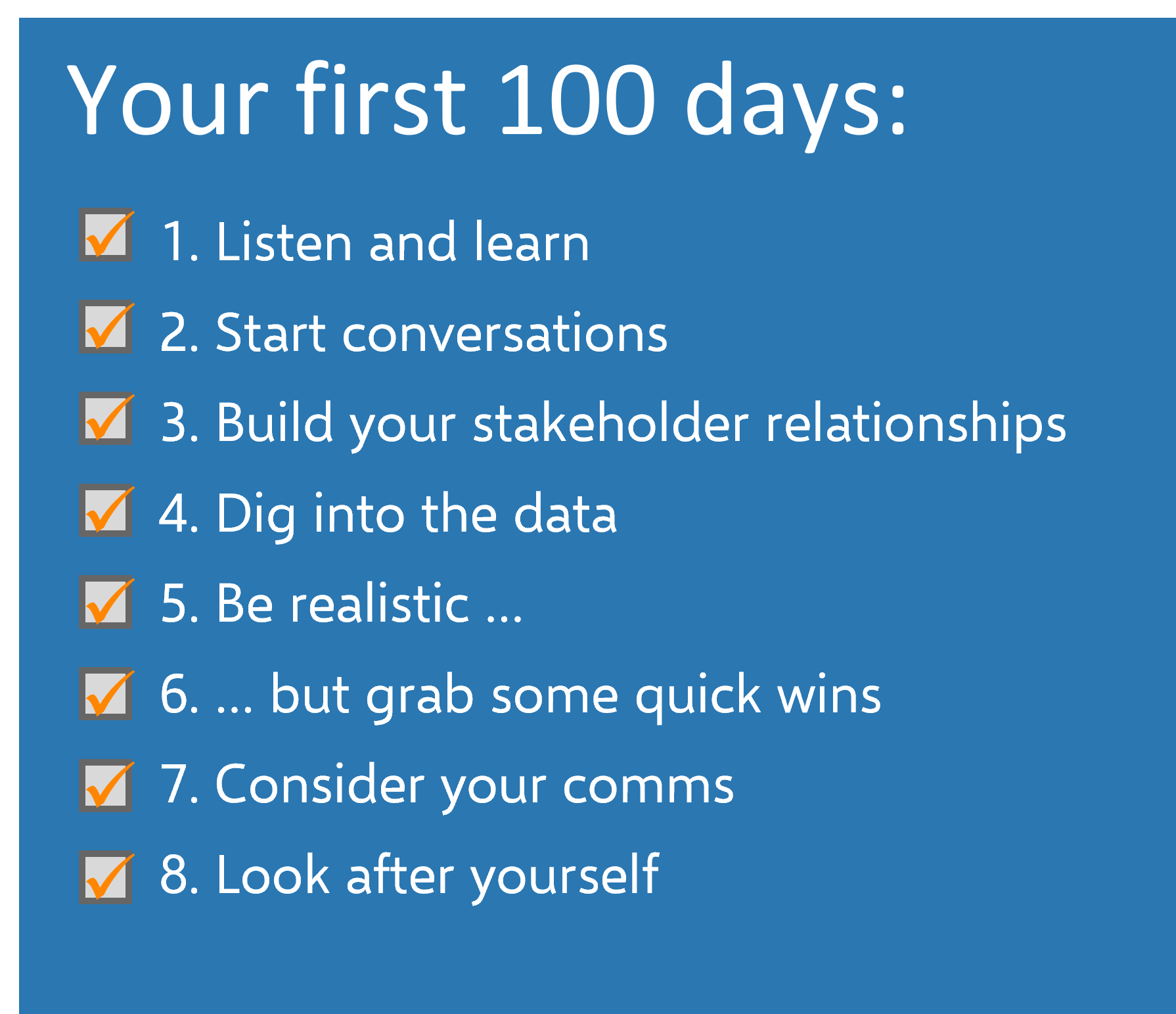 The Research Base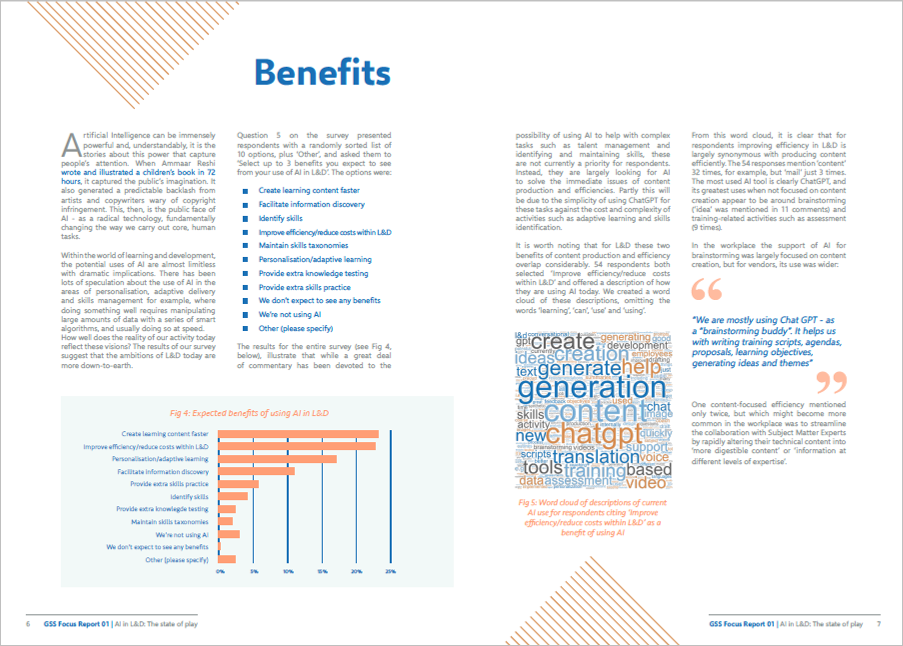 Focus on AI in L&D
CONTACT

Newsletter

Get the latest from Don in your inbox