The worst thing a public speaker can do

01 July 2017
It's been an intense few days of speaking and hosting at various events. Chatting with fellow speakers on the way, and watching the great way they have delivered their talks, I have once again been reminded of the opposite, of the worst thing anyone can do when speaking in public.
Be arrogant.
Signs of being arrogant include: running over time, not engaging with the audience, failing to tailor your talk to them, being inaudible, talking about yourself at great length. In short – not caring enough to be useful to the people you're addressing.
Here's the good news. Your body has a mechanism to prevent you being arrogant. You'll feel it in the pit of your stomach before you speak. It's call being nervous.
If you are a good speaker, those nerves are your friend. They make you hyper-alert. They help you pick up on the nuances of audience reaction; they prompt you to listen to your voice, your pace and delivery, altering it according to your sense of the audience. They remind you that you are there to serve the people in front of you, and to put your expert knowledge and your craft as a speaker at their disposal.
Whether it's a webinar, a day-long workshop or a three minute introduction to an evening of prize giving, I always get nervous before I speak. I welcome those nerves and put them to use. (And afterwards, I usually ask for feedback from the most brutally honest person I know in the audience. That's invaluable, if sometimes painful.)
As a conference organiser, I try to make sure that my speakers have everything they need to be comfortable before they stand in front of an audience, everything to help them shine, from a great chair person to the best technical team, to a quiet space to sit before speaking. But I still expect them to be nervous. Why? Because speaking in front of an audience is one of the most unnatural things in the world, and if you're not nervous before doing it, you're one of two things: mad or arrogant.
If someone tells me they never get nervous before they speak, it's an immediate danger flag. Too many times I've seen such people walk off stage blithely unaware of how they've let down their audience.
Don't be that person. At your next speaking gig, feel those nerves and put them to use. Remind yourself that they are they to help you. Then take a deep breath, step out in front of your audience and show 'em what you've got.
First published on linked on December 8th 2016
The Research Base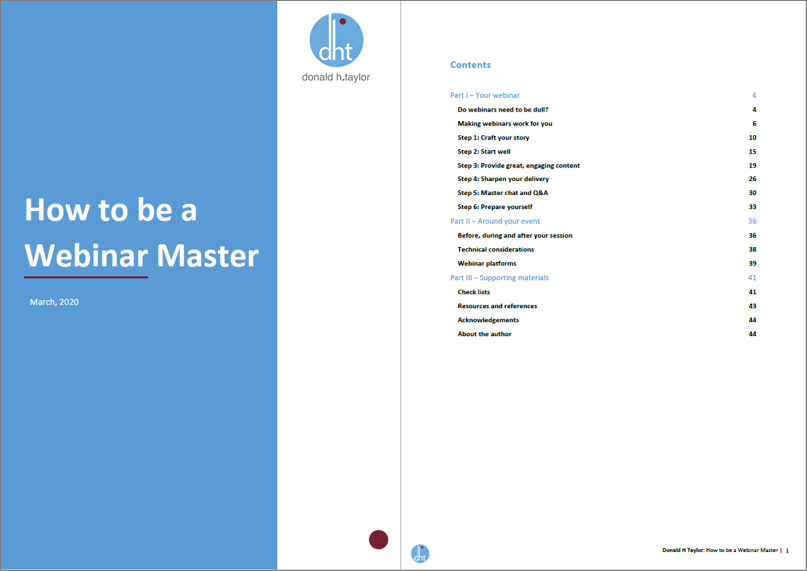 Webinar Master
CONTACT

Newsletter

Get the latest from Don in your inbox